I COACH PEOPLE WHO WANT TO LIVE BIGGER LIVES.
People who are ready for change – and just need the right support to get moving…
That's where I come in.
My speciality is helping people who are ready to take action, and tired of standing in their own way. I help my clients take a fresh and honest look at how they're living and craft a new plan for the future.
I believe you are allowed and able to change your mind, and change your course. With the right support, you can make bold choices and create your new future.
Every day, I help people change careers, launch businesses, establish side hustles, and successfully navigate major life transitions.
DO YOU WANT MORE THAN THE STATUS QUO?
If this sounds familiar, you're in the right place:
You're itching to take the next step in their career or life.

Whenever you think about a new plan for yourself, you come face-to-face with imposter syndrome

Life is so busy and it's often like you're on auto-pilot.

You have responsibilities at work and at home, and you worry how changing your life will impact the balance. Your coach needs to meet your reality with compassion and creativity.

You've done 'work' already. You've read self-help books, experienced traditional therapy, sweated it out in yoga classes. It's no longer enough. You need tailored, one-on-one support to get moving.
"Sarah has a rare combination of infectious enthusiasm, vision and practicality"
Jeff Warren, Co-Author of bestseller, Meditation for Fidgety Skeptics
"I had been wanting to make these changes for literally YEARS. It took 6 months with Sarah to get it done."
Rebecca Raskind, SVP of Chic Little Devil Style House, Los Angeles
WHAT I BRING TO THE TABLE AS YOUR COACH
Expertise, Results, Creativity & Compassion (All B.S.-Free!)
My full support and attention on YOU and your dreams

A custom goal-setting process that works

Strategies to help you face resistance (an inevitable part of taking action)

A laser-focus on what matters most to you – so you can stop getting distracted by the details of daily life

A confidential, supportive relationship where you can explore who you really are and what you truly want

My skills were honed at the world's top coaching school, Coaching Training Institute (CTI), where I became a Certified Professional Co-Active Coach (CPCC). I stay up-to-speed with coaching best practices as a member of the International Coaches Federation (ICF). I'm constantly learning and adding more to my own toolkit to share with you!
MOVING TO HONG KONG AT 18…READY TO TAKE ON THE WORLD!
WHO AM I OUTSIDE OF ALL THIS….
Here are 10 questions I'd want to ask my coach:
WHAT DID YOU DO BEFORE COACHING?

I was a seasoned project and events manager for high-profile fundraisers at organizations like Habitat for Humanity and United Way. I love this work, and making a difference in community and the supporting the charitable sector is still incredibly important to me. I also have a Masters degree from the Munk Centre for International Studies, which I got after living and travelling in Asia for four marvellous years, including a year in Hong Kong and three in Tokyo.

WHAT'S ON YOUR BUCKET LIST?

Continuing to experience the world with my family – my husband, Adam, and our two young kids, Josephine and Oliver. We've already taken them on extended trips across North America, Australia, France and the UK, and have a travel wish list that gets longer by the month (Bali, Greece, New York City, Spain, Galapagos Islands...)!

SOMETHING YOU'RE PROUD OF?

Getting my driver's license at 35 years young (which meant facing up to nearly two decades of resistance and anxiety!)

WHAT DO YOU DO FOR FUN?

Lock my iPhone in a drawer and paint with my kids. And many other things – I love having fun.

WHAT'S MOST IMPORTANT TO YOU?

True connection with others. Mental and physical health. Freedom and growth. Reminding people that they matter, they can change their minds, and anything is possible.

FAVOURITE APPS?

Insight Timer for literally hundreds of meditations for free.
Spotify for instant playlists already curated for me.
The booking app for my local gym so I can sign up for my Metcon classes.

COFFEE OR TEA?

Coffee. And good coffee is a must, ideally espresso.

FICTION OR NON-FICTION?

I refuse to choose! Top non-fiction picks are business, personal and spiritual development. And I read fiction every night before bed. I love to be transported to other places and lives, and end my day with laughter. (David Sedaris always helps with that).

WHAT MAKES YOU LAUGH?

Adam, my husband. He's a playwright and often writes about really dark things. But he's also the funniest and cracks me up a dozen times a day.

FAVOURITE CONVERSATION TOPICS?

What's the meaning of life?
How are you, really?
Any fun weekend plans?
WANT TO EXPLORE HOW WE COULD WORK TOGETHER?
Book a 30-minute call with me here:
Read about coaching together here: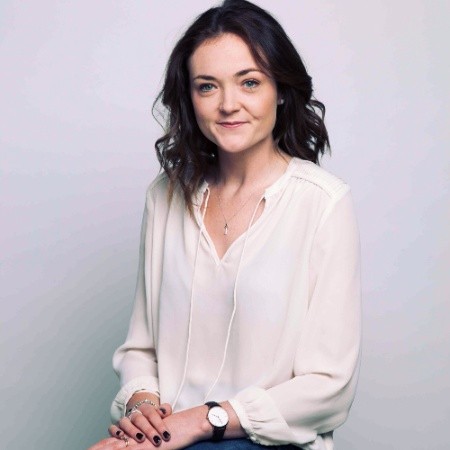 "Sarah helped me navigate a major career pivot. I'm forever grateful."
Robyn Clark, Partnerships, RBC Ventures
"I'm so proud… I can't recommend Sarah enough"
Andrea Houssin, Actor & Writer